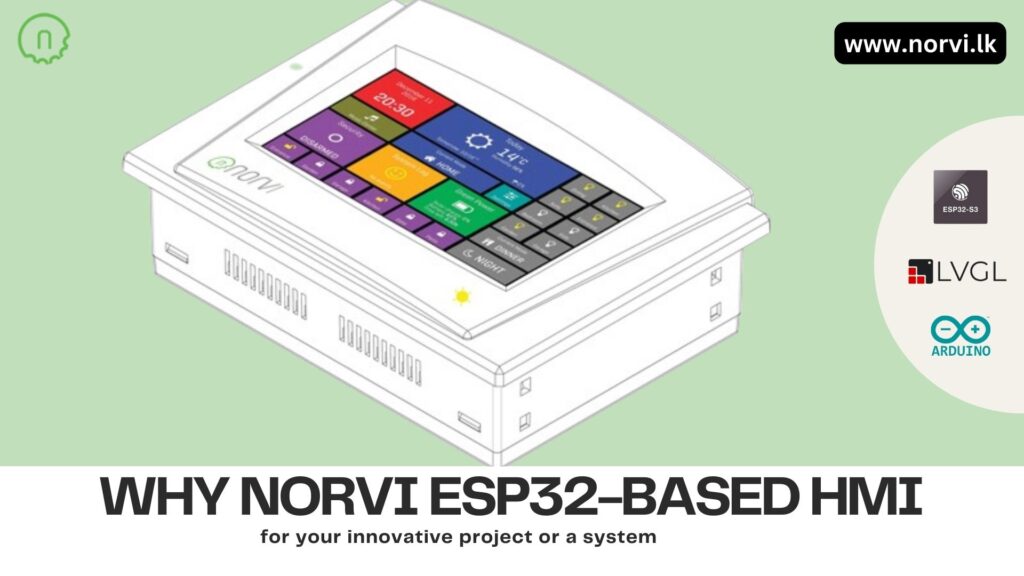 Do you know NORVI has a new addition? Here is why you should choose it. NORVI ESP32-based HMI solution is now available to buy, explore more now. 
Introducing the groundbreaking NORVI ESP32-based HMI (Human Machine Interface), a marvel in the realm of Programmable HMI supported with LVGL (Light and Versatile Graphics Library). This innovative system redefines interaction dynamics by bestowing users with an immersive graphical environment, seamlessly melding technology and user experience. Crafted to be programmed with Arduino, this HMI stands as a pinnacle of versatility, providing an influential platform for the inception of intuitive user interfaces while harnessing the potent capabilities of ESP32 microcontrollers.
The fusion of NORVI's prowess with LVGL technology is a game-changer, empowering creators to sculpt visually captivating, responsive, and feature-rich interfaces. This amalgamation of cutting-edge features positions it as the go-to solution across diverse applications clamoring for user-friendly interactions. From IoT devices to automation systems and beyond, the NORVI ESP32-based HMI emerges as the quintessential choice for those seeking an unprecedented blend of innovation, functionality, and aesthetics in their projects.
See the diagram and explanations below for how an ESP32-based HMI is developed, as well as its benefits and features
Key Advantages of NORVI ESP32- based HMI
The NORVI ESP32-based HMI boasts several key advantages that set it apart as a game-changer in the realm of Human Machine Interfaces:
ESP32-S3-WROOM32 Module:

At its core lies the powerful ESP32-WROOM32 module, renowned for its robust performance and versatility. This module serves as the foundation, providing the HMI with a potent processing engine, ample memory, and efficient wireless connectivity capabilities. This is from Espressif Systems and it has the following advantages.
High-performance processing capabilities

Dual-core microcontroller architecture

Ample built-in memory and storage options

Integrated Wi-Fi and Bluetooth connectivity

Low power consumption and energy-efficient operation

Support for various interfaces such as SPI, I2C, UART, and more

Rich set of peripherals and features for versatile applications
LVGL Support Display:

The integration of LVGL (Light and Versatile Graphics Library) support elevates the user interface experience to new heights. This advanced feature empowers creators to design visually stunning, responsive, and feature-rich graphical interfaces, enhancing user interaction and engagement and many advantages as below.
Enables creation of visually appealing and rich graphical user interfaces (GUIs)

Offers responsive and smooth interaction for users

Provides a wide range of customizable widgets and graphics

Supports animations and transitions for enhanced user experience

Compatibility with various display sizes and resolutions

Optimized for resource-efficient performance on embedded systems
PLC Functionality with Arduino:

The HMI's compatibility and integration with Arduino enable it to function as a Programmable Logic Controller (PLC). This extends its utility beyond a mere display interface, allowing it to control and manage various processes and systems, making it an all-encompassing solution for automation and control applications its key advantages are as below.
Versatile control and management capabilities for various processes and systems.

Integration of human-machine interaction with control logic, enhancing usability.

Flexibility in programming and customization for specific automation needs.

Expanded functionalities beyond traditional HMI interfaces.

Seamless communication between the user interface and control systems.

Utilizes widely supported Arduino ecosystem for easy development and scalability.
Features-based Applications
By leveraging the ESP32-WROOM32 module, harnessing LVGL's display capabilities, and incorporating PLC functionality through Arduino compatibility, the NORVI ESP32-based HMI emerges as a comprehensive, adaptable, and high-performance solution for a wide spectrum of applications, promising unparalleled versatility and functionality. Also, it introduces a robust 5-inch LCD Display with Resistive Touch, boasting a suite of features tailored for diverse industrial applications:
5-inch LCD Display with Resistive Touch:

Offers a crisp and clear display, enhancing user interaction and visual clarity in various industrial environments.

Built-in Buzzer:

Equipped with a built-in buzzer for audio alerts or notifications, facilitating immediate and audible feedback for critical processes or events.

Digital Inputs:

Provides digital input ports for seamless integration and connectivity with external devices or sensors, enabling versatile data acquisition and control.

Analog Inputs:

Includes analog input capabilities, allowing precise measurement and monitoring of varying voltage levels or sensor outputs, crucial for nuanced control and analysis.

Transistor Outputs:

Features transistor outputs that facilitate control over external devices or systems, offering flexibility and adaptability in managing industrial processes.

Supports Industrial Voltage up to 24V DC

: Designed to handle industrial-grade voltages up to 24V DC, ensuring compatibility with standard industrial power systems and environments.
Visit our product page for more information: NORVI HMI
The ESP32-based HMI with LVGL support and Arduino functionality excels in these industrial applications by providing a powerful platform for creating intuitive and feature-rich user interfaces while leveraging the capabilities of ESP32 microcontrollers. Its versatility, robustness, and ease of integration make it a valuable asset across various industrial settings as below.
Manufacturing Automation:

Employed in manufacturing processes for control interfaces, monitoring production lines, and managing machinery with intuitive and responsive user interfaces.

Building Automation:

Used in building management systems to control lighting, HVAC systems, security features, and access controls with user-friendly interfaces.

Industrial IoT (IIoT) Solutions:

Integrated into IIoT systems for data visualization, remote monitoring, and controlling industrial equipment and machinery.

Process Control and Instrumentation:

Utilized in industries such as chemical, pharmaceuticals, and food processing for real-time monitoring, controlling parameters, and managing processes.

Energy Management:

Applied in energy production facilities, smart grids, and renewable energy systems for monitoring and controlling power generation, distribution, and consumption.

Smart Agriculture:

Used in precision agriculture for monitoring environmental conditions, controlling irrigation systems, and managing farm machinery.

Transportation and Logistics:

Employed in smart warehouses and logistics systems for inventory management, tracking goods, and controlling conveyor systems.

Water Management:

Utilized water treatment plants and distribution systems for monitoring water quality, managing pumps and valves, and automating processes.

Healthcare Equipment:

Integrated into medical devices and healthcare equipment for user interfaces, patient monitoring, and controlling automated systems.

Robotics and Automation:

Applied in robotics for creating interactive control panels, monitoring robotic systems, and managing automation processes.
NORVI ESP32-based HMI Models
There are two models available in ESP32-based HMI now to buy!
ESP32-WROOM32 Module

Built-in 5Inch LCD Display with Resistive Touch

Built-in Buzzer

Built-in microSD Card support

LVGL Supported Display

DS3231 RTC with battery backup

PLC functionality with Arduino
Inputs and Outputs
4 x Digital Inputs 24V

4 x 4 – 20mA Analog Inputs

4 x Transistor Outputs
Communication
2.4Ghz WiFi + Bluetooth

W5500 Ethernet

RS-485
ESP32-WROOM32 Module

Built-in 5Inch LCD Display with Resistive Touch

Built-in Buzzer

Built-in microSD Card support

LVGL Supported Display

DS3231 RTC with battery backup

PLC functionality with Arduino
Inputs and Outputs
4 x Digital Inputs 24V

4 x 0 – 10A Analog Inputs

4 x Transistor Outputs
Communication
2.4Ghz WiFi + Bluetooth

W5500 Ethernet

RS-485
Additionally, if there are any specific technical specifications, compatibility details, or customization options available for this ESP32-based HMI, make an inquiry to us at [email protected]
Begin your journey into exploring the endless possibilities that the NORVI ESP32-based HMI offers for your project or innovative system. Your adventure starts with us today. Purchase Now! 
#NORVI #ESP32 #LVGL #HMI #HumanMachineInterface #Arduino #IndustrialAutomation #IoT #PLC #UserInterface #ESP32WROOM32 #IndustrialControl #LVGLSupport #InnovationInTech #AutomationSolutions #EmbeddedSystems #TechnologyIntegration #SmartTech #IndustrialApplications #HMIsolutions #LVGLdisplay #arduino #ArduinoHMI #IndustrialHMI #HMItechnology #UserFriendlyInterface #IoTApplications #AutomationControl #SmartHMI #TouchScreenDisplay #esp #esp32 #esp32project #esp32wroom #Technology #IntuitiveUserInterfaces #Industries #hmisolutions #hmiprojects #HMIDesign #EmbeddedSystems #UserInterface #HMIProgramming #TouchscreenTech #SmartDevices #Electronics #DIYElectronics #Arduino #TechInnovation #WirelessCommunication #InternetOfThings #MakerCommunity #Engineering #Innovation #HMIControl #OpenSourceHardware #microcontrollers#HMIApplications #EmbeddedHMI #ControlSystems #DigitalInterface #InnovativeHMI #ESP32Technology #LVGLSupport #HumanMachineInteraction #HMIdevelopment #BuyESP32HMI #BuyNow