Industrial IoT Node featured with ESP32-WROOM SoC, built into a  panel mount device, for applications which requires tiny display.
Front mount USB port provides easy access to programming and a button connected to GPIO provides facility for user inputs. 
Can be ordered with 0.96 OLED display or RGB pixel LED.
Dual Core 32bit 160-Mhz CPU
520 Kbytes SRAM / 4 Mb Flash
Two timer groups, including 2 x 64-bit timers and 1 x main
Operating system and Software
Arduino (C++)
MicroPyton
ESP-IDF (Espressif IoT Development Framework)
Zephyr Project
Mongoose OS
Sink/Source Digital Inputs
Sink/Source Digital Inputs
Sink/Source Digital Inputs
Sink/Source Digital Inputs
Machine Monitoring
Low power sensor node
Simple process controller
Datalogger
WiFi – NB-IoT Bridge
Modbus Gateway
MQTT Gateway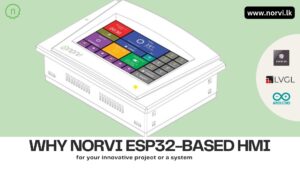 Do you know NORVI has a new addition? Here is why you should choose it. NORVI ESP32-based HMI solution is now available to buy, explore
Read More »